Introduction
TANITEC was founded as a manufacturer of circular saw blades in 1946 and specialized in metal cutting saw blades in 1970 along with the industry development in Japan. We successfully developed metal cutting saw blades in Japan, although most of them were imported from foreign countries at that time.
Our users are in the industries of steel, automobile, building products, construction, etc. which manufacture steel products. TANITEC brand became widespread among these users.
The cutting technology by the laser beam machining advanced recent years. However, the cutting by circular saw blades is still in the dominant position on the cost side. Although the laser beam machining has an advantage in a minute processing, there is a kind of habitat segregation between the laser beam machining and the cutting with circular saw blades according to the purpose.
TANITEC is offering the value related to "cutting", which is not only the circular saw blade but also the cutting machine and the grinder, etc. Peripherals of the circular saw blade are occupying about 30 percent of sales now.
Under the ideal, "Nothing on earth cannot be cut", TANITEC has many experiences and product lineups built up for a long time and they are our advantages which enable us to offer the most suitable saw blade to our customers according to their applications.
The sales ratio to overseas countries mainly including USA and Europe is now over 35% and it will expand in the course of promotion to the rising nation like China, India, and Brazil, etc. in future.
High-tensile strength steel pipe
Manufacturers in the automobile industry have done a lot of improvement to reduce the weight of production under the circumstances the reductions of CO2 emission and energy consumption are generally required. Among others, the improvement of energy consumption is the essential issue for automobile manufacturers and the importance of this matter has been growing year by year.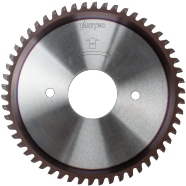 Milling cut-off machine
n the tube and pipe industry, the demands for the better cutting surface are increasing every year. For a long time in history, friction saw blades have been widely used for the flying cut-off in the milling process in which the cutting machine moves along with the milling production line by the same speed. A wide range of users still prefers to use friction saw blades. However, the cutting surface cut by friction saw blades is rough and often has burrs, which needs secondly process like facing.