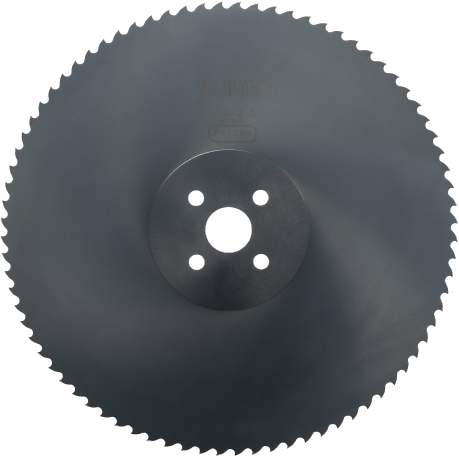 HSS Metal Saw
Our standard model, HSS Metal Saw, is used for cutting of general materials such as normal steels, carbon steels and so on. TANITEC adopted the special surface treatment at first time in Japan that makes a layer of iron oxide (Fe3O4) to the blade surface. It enhances not only lubrication oil to be cooling-off, also the protection from depositing chips to the blade tooth, and it is successful in the improvement of the cutting life.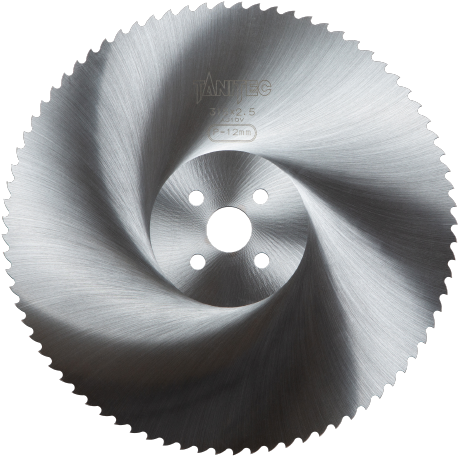 MSS Metal Saw
MSS Metal Saw, High Speed Steel cold saw, is coated with Chromium and Nickel by our special technology. The special coating prevents it from rusting, wearing and depositing of the chips on the blade tooth, therefore, MSS Metal Saw is better at cutting of alloy tool steel or special steel even stainless steel which is very tough to be cut.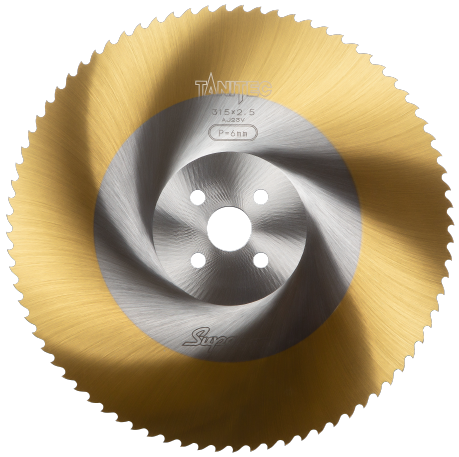 TiN Metal Saw
TiN Metal Saw is coated with titanium and nitrogen compound by ionic plating process. The hardness of blade surface can reach from HV2000 to 2500. The coating helps not only for its excellent abrasion resistance also for minimizing the chips deposition on the blade teeth.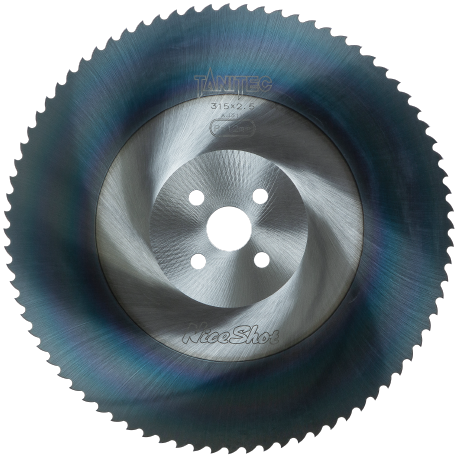 Nice Shot
The chromium coating reduces frictional coefficient and improves slip factor against cut material. The coating also prevents the metal from depositing and seizing the teeth and makes a beautiful cutting surface. Besides it has approx. twice of tool life, compared with our HSS coated blade saw. Best shot has great effects for automotive parts, machinery parts such as chromium steel, chromium molybdenum and stainless steel which is easily deposited and seized to the teeth.
■ Size and pitch chart
Type
Pipe
Material
Iron・stainless steel
Maximum cutting
size
size
Under2
2~3
4
5~6
6~8
8~9
pitch
3
4
5
6
8
10
Saw size
250
260
200
160
120
100
80
φ75・70×70
280
280
220
180
140
110
90
φ75・70×70
300
300
220
180
160
120
90
φ90・70×70
315
320
240
180
160
120
110
φ90・70×70
350
360
280
220
180
140
110
φ115・100×100
360
360
280
220
180
140
110
φ115・100×100
370
360
280
220
180
140
110
φ115・100×100
385(380)
400
300
240
200
140
110
φ120・110×100
400
-
300
240
200
160
120
φ120・110×100
420
-
320
260
220
160
120
φ120・110×100
450
-
340
280
220
180
140
φ150・150×100
Type
Flat bar
Material
Iron・stainless steel
Maximum cutting
size
size
Under3
4~5
6~15
16~20
20~40
40~55
55~70
70~80
pitch
3
4
5
6
8
10
14
16
Saw size
250
260
200
160
120
100
-
-
-
70×20
280
280
220
180
140
110
-
-
-
70×20
300
300
220
180
160
120
-
-
-
125×25
315
320
240
180
160
120
-
-
-
125×25
350
360
280
220
180
140
110
80
-
160×60
360
360
280
220
180
140
110
80
70
160×60
370
360
280
220
180
140
110
80
70
160×60
385(380)
400
300
240
200
140
110
90
70
160×60
400
-
300
240
200
160
120
90
80
200×70
420
-
320
260
220
160
120
90
80
200×70
450
-
340
280
220
180
140
100
90
200×80
Type
Angle
Material
Iron・stainless steel
Maximum cutting
size
size
Under2
2~3
3~4
4~6
6~8
8~9
pitch
3
4
5
6
8
10
Saw size
250
260
200
160
120
100
80
70×70
280
280
220
180
140
110
90
70×70
300
300
220
180
160
120
90
90×70
315
320
240
180
160
120
100
90×70
350
360
280
220
180
140
110
100×100
360
360
280
220
180
140
110
100×100
370
360
280
220
180
140
110
100×100
385(380)
400
300
240
200
140
110
100×100
400
-
300
240
200
160
120
120×100
420
-
320
260
220
160
120
120×100
450
-
340
280
220
180
140
150×100
Type
Solid
Material
Iron・stainless steel
Maximum cutting
size
size
Under20
20~30
30~50
50~60
60~70
70~80
80~100
100~120
pitch
6
8
10
12
14
16
18
20
Saw size
250
120
100
80
-
-
-
-
-
50
280
140
110
90
70
64
-
-
-
70
300
160
120
90
80
70
-
-
-
70
315
160
120
100
80
70
-
-
-
70
350
180
140
110
90
80
60
-
-
80
360
180
140
110
90
80
70
-
-
80
370
180
140
110
100
80
70
-
-
80
385(380)
200
140
110
100
90
70
-
-
80
400
200
160
120
100
90
80
70
-
100
420
220
160
120
110
90
80
70
-
100
450
220
180
140
110
100
90
80
70
120